The Singular Space
Old bread and oil mill from the 19th century, which is reborn as a boutique accommodation
The magnetism of its owner, for old houses with stories, and her passion to restore them to recover all their splendor, have managed to transform this old mill house, with more than a century of history, into an intimate and cozy boutique accommodation, with services hotel and restaurant space, exclusively for its guests.
A scented hall garden, with a romantic air, that welcomes you at the entrance to the estate.
"Restored to receive"
The 1,100 m2 farm, with 550 built meters, opens onto the garden surrounded by an orchard of trees.
Its spaces restored with care and decorated with a soft and serene country air, combine traditional materials with the maximum modern comfort. Warmth, simplicity and luxury define the result, of meticulous work, in this exquisite reform. That gives life to this place again, opening the doors of El Molino de Plata.
A place that has been reinvented to enjoy today the best of yesterday!
"Wonderful spaces created, in short, to enjoy a serene private exclusivity"
"Lush garden, wrapped in its original stone walls"
To which most of the rooms of the house open. The teak and fiber furniture, located under the grove that guards this garden, decorates creating placid and natural corners, where you can relax and have fun together.
It is the ideal setting for relaxed evenings and dinners at sunset. Disconnection is guaranteed!!
"Covered porch of  80 m2"
Next to the pool is this delicious porch with a dining room equipped for 20 guests. Creating an ideal setting to enjoy our delicious breakfasts and meals outdoors. In summer protecting us from the sun and in winter enjoying the tranquility and views of the garden.
"Outdoor pool of 40m2"
With a beach area, shallow where to lie down, it seduces from the first moment. Wide walkway, where you can let yourself be carried away by the sun, from a backdrop of tranquility and silence.
"The Guest's Kitchen"
THE LARGE 28 M2 KITCHEN, 4M HEIGHT CEILINGS AND A LARGE 3M CENTRAL ISLAND, STANDS OUT FOR ITS ORIGINALITY
Mixing all the flavor of yesteryear, with its original stone coating, and the comfort of selected modern furniture. With the kitchen strategically located in the house, enjoyment and comfort are guaranteed. A large open bay communicates it with the living room and restaurant of the house. As well as the garden porch, which also has direct access from it.
"Viewpoint Terrace of 50 m2"
From which it allows our guest to relax contemplating the fantastic landscape of the mountains in the Sierra de Albuñuelas. Decorated and furnished to enjoy the views having a coffee or a glass of wine at sunset.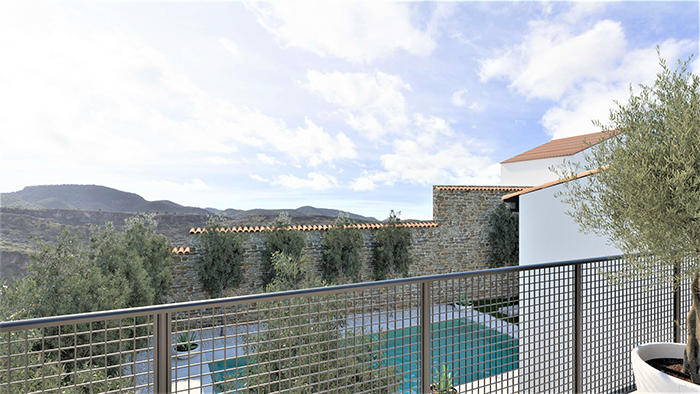 YOGA SHALA AL ARIE LIBRE If you want to connect with nature, you can also practice yoga, outdoors, in this viewpoint space that connects with the yoga studio. This is where relaxation and stunning views become one.
Three of the suites, in addition to the yoga studio, have direct access from the room to the viewing terrace.
"Yoga Shala Space"
YOGA SHALA STUDIO a haven of peace, with wooden vaulted ceilings and fixed glass walls, which provide natural light and the panoramic view of the garden, as a backdrop.
Aware that each step counts to make an adequate yoga practice possible, our studio is equipped with cork yoga mats and their corresponding blankets. As well as zafus stuffed with spelled, whose shape and height for all meditation poses. They also serve as support in different yoga postures, thus obtaining greater comfort
"Our Suites"
8 DOUBLE ROOMS WITH EN SUITE BATHROOMS ALL OF THEM: CAPACITY FOR 20 GUESTS
The stables, the hayloft, the room where the mill and bread oven were located… have now been converted into suites. What gives them a very particular air.
Naturally inspired in the decoration, with its stone walls and high ceilings with wooden beams, its restored old doors, large windows that fill the rooms with natural light and a mixture of wooden furniture and natural fibers… they are the signature of our suites. , with a serene character and soft country air with views of the mountains.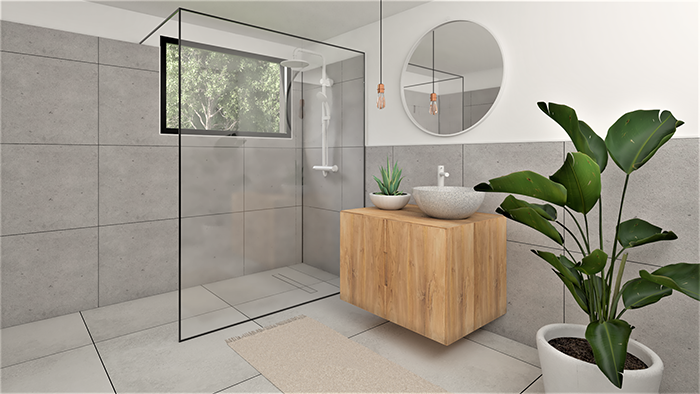 An orchard of trees and autochthonous crops from these fields, from the Lecrín Valley, give each suite its name:
SUITE 1 "EL ALMENDRO DESNUDO": 19 m2 double suite with views of the hall garden. It has two single beds of 105.
SUITE 2 "LA HIGUERA LOCA": 27 m2 triple suite with two balconies. It has two single beds of 105 + sofa bed.
SUITE 3 "EL NARANJO DORMIDO": Double suite of 20 m2 with balcony. It has two single beds of 105.
SUITE 4 "AROMA DE LIMON": 21 m2 double suite with views of the hall garden. It has two single beds of 105.
SUITE 5 "LA CHUMBERA": 23 m2 triple suite with access to a large terrace with views of the mountains and decorated in harmony with nature and warm furniture. It has two single beds of 105 + sofa bed.
SUITE 6 "EL JAZMIN DORADO": 23 m2 double suite with access to a large terrace with mountain views and decorated in harmony with nature and warm furniture. It has two single beds of 105.
SUITE 7 "EL OLIVO SAGRADO" Triple suite of 30 m2 with access to a large terrace with views of the mountains and decorated in harmony with nature and warm furniture. It has two single beds 105 + sofa bed.
SUITE 8 "LA ESPIGA VERDE" 32 m2 triple suite with direct access to the garden and pool. It has two single beds of 105 + sofa bed.
"Living Room area with Fireplace"
This space has been designed to provide comfort and enjoy long evenings around the fireplace.
Where yesterday there was an oil mill, today you can enjoy a warm living room, with 4-meter high walls of original stone, which contrast with the micro-cement finished floors, chosen during the rehabilitation. A large iron and glass window opens onto the entrance garden, enveloping the room in light and the green color of the garden vegetation. That as a picture we can see from the sofa.
The chosen furniture combines pieces of different styles and colors, managing to give life and joy to this converted space.
"Restaurant Area"
"SPACE KITCHEN CLUB" as we like to call our meeting place where to share and relax enjoying our gastronomic service, with the delicacies served by our chef.
Here the philosophy is not merely that of a space to serve meals, this environment has been designed inspired by the Andalusian tradition of social gatherings, where the concept celebrates the idea of ​​enjoying meals and long after-dinches, with dishes designed and animated to share. .
It is the central place to chat, to relax and have fun together, while enjoying a gastronomic experience, tasting our house dishes.
A space with character and decoration dotted with natural materials, such as the rattan of the large lamps, the teak of the chairs and stools or the recycled wood on its tables.
High wooden pillars visually separate the bar and dining area from the living room, seamlessly merging the environments. Beams and mill wheels show in the room, where the old oil mill was located.
– THE SINGULAR EXPERIENCE –
Boutique Home & Hotel Services
Exclusive Restaurant
Boutique Home
Exclusive Restaurant